You Will Make Maps!
March 31, 2021 @ 12:00 pm

-

3:30 pm

EDT
We will teach you how to make and use Wardley Maps. You will leave with at least one map of your own, to kickstart your mapping journey.
Yes, You Will Make Maps
Wardley Mapping helps you increase your awareness of your strategic situation so your actions can be more deliberate and purposeful.
In this workshop, you will learn how to:
Read and make maps: Yes, you will actually read and make Wardley Maps in this session.
Think strategically: You will use the Wardley Mapping strategic thinking process to identify unique opportunities in your context.
Create alignment: You will practice how to have strategy conversations with peers (without ever having to "sell" Wardley Mapping).
Leaders at all levels choose Wardley Mapping to create clarity and purposeful action inside their teams and organizations. We will help you get started.
We aim to provide a 10x return on investment for this session. If you do not get that level of value, we will gladly issue a refund.
About David and Ben
David Holl (Founder and CEO, Postobject) has spent over a decade working with and leading top teams on big challenges such as product/market fit, hypergrowth, IPO, and Acquisition. His experiences as a GV-trained Design Sprints practitioner highlight the incredible impact sprints can have, enabling teams to consistently do their best work and rapidly launch the business forward.
Ben Mosior (Principal, Hired Thought) is your friendly methodology whisperer, developing innovative new methods into everyday tools and facilitating learning experiences for teams and communities. Through Hired Thought, Ben shares decision-making and sensemaking approaches oriented around collective knowledge creation. To democratize access to strategic thinking methods, he operates LearnWardleyMapping.com and runs regular events to inform and uplift new practitioners. Ben's goal in work and life is to do his part to enable purposeful systems to flourish. He podcasts for joy and teaches for hope.
What People Say About Our Work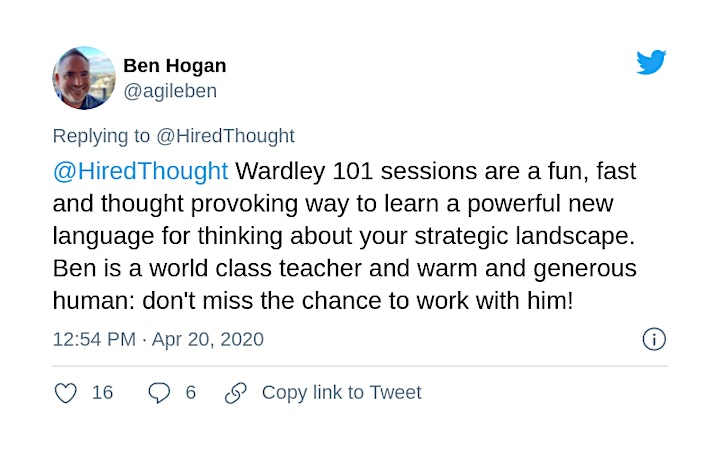 Here's what Michael Ashcroft had to say about working with Ben:
I came into my session with Ben having been intrigued by the Wardley Maps I had seen on Twitter, but with no other knowledge. I wanted to know if there's a *there* there worth exploring. Ben was fantastic in talking me through the key concepts in a way that would make sense to me. Now I feel confident that this is something I want to investigate much more deeply, but I wouldn't be here without Ben's guidance.
Here's what Chris had to say:
I've gone through the books and talks but this session really helped connect it to my daily practice. It was really great to hear how I can apply Wardley Mapping to my real-life case. He is a wealth of knowledge. Looking forward to another one in the near future.
Tom, too:
In a single session Ben made the basics of Wardley Mapping far clearer to me, and helped me to start seeing the potential of the methods more fully. Highly recommended. Thanks Ben!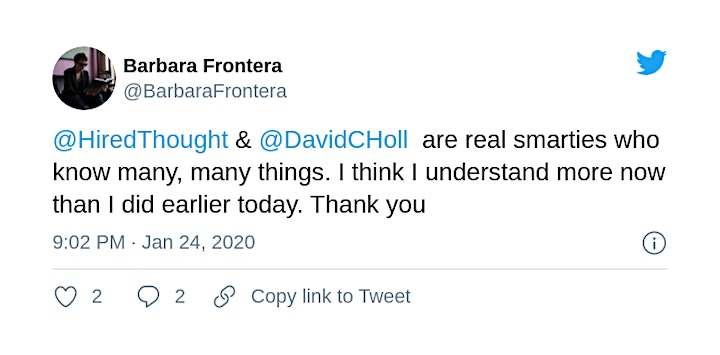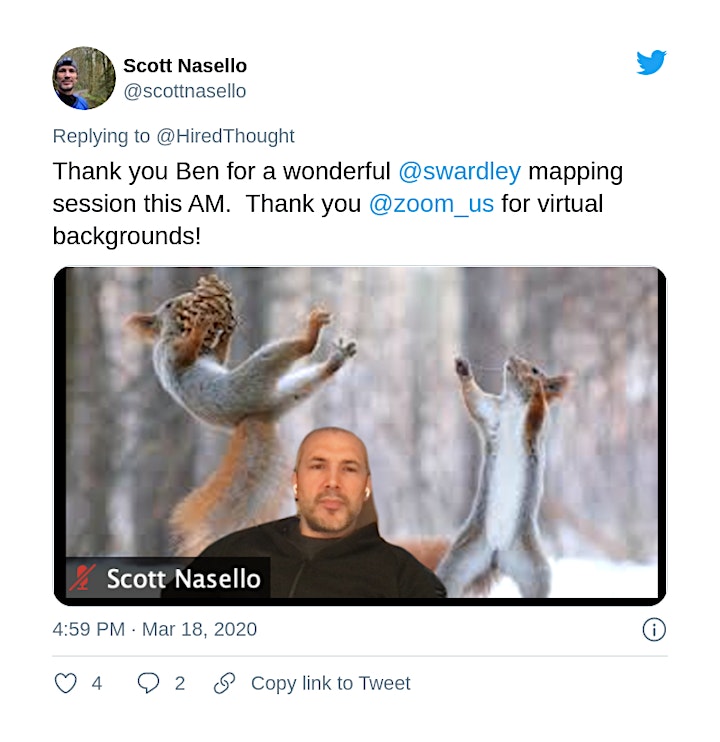 Not sure if this is for you?
Drop a message to ben@hiredthought.com or @HiredThought on Twitter. We'll gladly fill you in on what learning options are out there (especially the free ones!), and answer any questions you have about the value of this experience.